Potent Balance Board
Balance training for activate your mind and body
Potent balance board is one of the most excellent products, assembled with those very important training points, to improve your balance skills, agility on board, developing core strengthen on your legs, thighs and waist. Potent balance board is safe handling and easy to carry.Special anti-slippery surface ensure safe training and prevent injuries. It perfectly suits for training or daily workout during the off-season or when outdoor conditions are poor, or just for entertainment for a family and roommates together.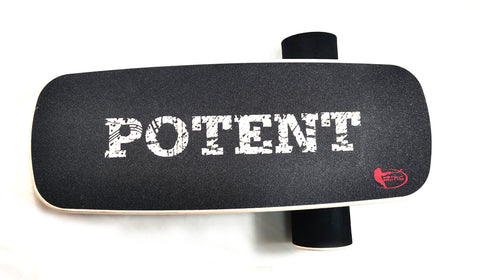 【PROFESSIONAL TRAINING AID】 Great for overall fitness and building your core. Used to improve skills in Skateboarding, Snowboarding, Wakeboarding, Surfing, and training for Fitness, Hockey, Martial Arts, Skiing, Golf, Yoga and general sports training.
【IDEAL FOR BALANCE AND AGILITY TRAINING】 The balance board is great to improve your balance ability and agility on board, develop core strengthen, and even work new muscle groups on your legs, thighs and waist. It also can help to strengthen ankle and knee Joints while getting a workout.
【HIGH QUALITY MATERIAL AND HEAVY-DUTY CONSTRUCTION】Crafted with strong wood, non-slip tape, and an easy-glide roller, this trainer is a high-quality balance board kids and adults can use for years to come.
【PORTABLE & USE ANYWHERE】It can be easily tossed in a gym bag or overnight duffle, or fits under the bed or in a closet when not in use.
TRY A POTENT BALANCE BOARD TODAY !