Potent Super Defender - The Ultimate Hockey Training Tool
Would you like to have a defender practice with you? The Potent Super Defender is a great way to practice beating the defender, whether training as a youth or working to be a pro.
The Super Defender is the perfect size and shape to mimic a defender's skates and the hockey stick's blade so that you can practice getting around the defender or stickhandle the puck through. This is great for hand-eye coordination and gap control. When not in use, fold it flat for easy storage. 
Benefits
Improve Stickhandling and Deke Moves.
When you're on the ice, you need to either get past or go through the defender. The Potent Super Defender will help you train for these situations by practicing your stickhandling and deke skills with a game-like set of skates and blade to go through. You can practice body-on-body and stick-on-stick techniques. Practice gap control and even practice winning faceoffs.
Stable and Durable Design
Potent Super Defender is made from a combination of durable materials that can withstand impacts for years. The blade is made from a reinforced ABS material that makes it strong enough for stick contact and daily hockey practice. In addition, you can anchor it with its removable pegs for added stability on the ice. Rest assured the Super Defender is strong enough to withstand impacts, puck hits, and crashes from sticks and still last for years.
Portable and Lightweight
Potent Super Defender was designed to be light enough to move around, yet heavy enough to hold up. The two legs are made from Aluminum so that it is lightweight and durable. It is easily foldable and comes with a handle, so that you can easily carry it anywhere, on or off the ice. Practice with a Super Defender is the ultimate hockey training aid for players of all ages and skill levels!
How to use Potent Super Defender?
It is easy to practice with a Potent Super Defender. When you get it out of the box, pull out the legs and push down on the hinge to lock it in place. That's it, you are ready to go. For added stability, you can anchor it to the ice with pegs and an Allen key.  
When done training, simply pull up on the hinge to fold the legs up and fold it flat for storage.
Who should buy it?
Hockey players of all levels will benefit from the Potent Super Defender. You can use it for developing hand-eye coordination, puck control, and your overall stick handling abilities. In short, this training tool will help you beat more defenseman and ultimately score more goals!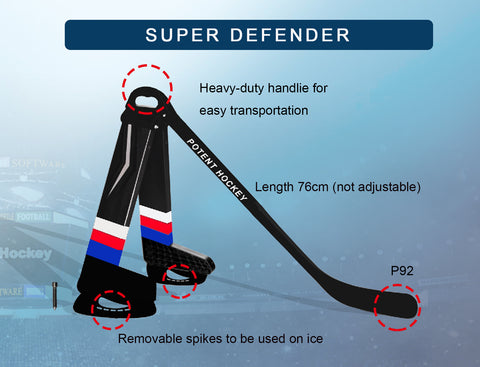 Order your Super Defender Today!

You can use the Potent Super Defender to practice against a defender in your home, garage, or on the ice. Gap control is essential if you are going to succeed to get through the defense. The Potent Super Defender is the best way to practice this and improve.
This along with our other hockey training products can help you take your game to the next level, no matter where you are in your hockey development.
Try a Potent Super Defender Today!
--
*comes in four colors, shipped randomly.