Regular price
$154.00 USD
Regular price
$249.00 USD
Sale price
$154.00 USD
Unit price
per
Sale
Sold out
Potent Digital Stickhandling Trainer
Potent, the digital, smart stickhandling trainer is a revolutionary hockey training tool, which can help you improve your puck control and stickhandling ability. It allows you to tailor your practice to suit your personal skill level so that you can develop fundamental hockey habits while having fun! 
The best technical stickhandling trainer on the market. Helping empower our players to train differently using a digitalized, responsive system. Soon you'll be dangling through your opponents just like the pros! 
Used by more than 100 NHL players, thousands of young hockey players, and is a favorite among coaches for players of all ages and skill level!
With a Potent stickhandling trainer, you'll be able to: 
Increase your hockey IQ. Improve the mental side of your game so you can think fast and make split-second adjustments on the ice. 

Practice different moves so you can train different styles of attack and defense. 

Battle with a friend or a coach and practice your speed, timing, and skills with the virtual opponent—all on your own time and in your own space. 

Get real-time feedback. Instantly see where & how you're improving with instant feedback from your training session. 
Top 3 Benefi

ts of Using a Potent Stickhandling Trainer
The Potent stickhandling trainer has been developed with the help of hockey players from all over the world to ensure that it is an effective training tool for all ages. Here are the top 3 benefits of using a Potent stickhandling trainer:
1. Customizable 
Potent provides many customization options to make your training experience as customized as possible. You can select the speed you want to use, make your own training program, and record your progress with on-screen feedback. This gives you the most control over the variables that affect your practice experience and helps to avoid any unnecessary stress on your body during practice. 
2. Never Get B

ored
The Potent stickhandling trainer is fun to use. The lights are programmed in a random pattern, so you can never master the system. You'll always have to work hard to achieve your goals and improve your stickhandling abilities. The constant challenge will never let you get bored.
3. Improvement at Every Skill Level
The Potent stickhandling trainer helps you develop fundamental hockey skills at any age/skill level. You can work on puck control, stickhandling, and your reaction time all in the same training session. Simply set the speed and timer and work on improving your score. This way you are getting instant feedback in each training session so that you are ready when you need it most. 
How to Play

STEP 1: Power on and Select the Speed
The green LED indicates that charging is done, and the Potent® Trainer set is ready to be utilized. Power on the device by pressing the ON/OFF button.
You can adjust the difficulty of the targets by changing the speed on the controller. The two different speeds are P1 and P2. In P1 mode, the lights change every 5 seconds. P2 mode is even faster; the lights change every 2 seconds. 
STEP 2: The Game Starts
Five targets are randomly lit and scored. Pass the sensor puck/ball under the light and get a score.
One round is 45 seconds, and you get one point for each target you pass.
STEP 3:

 

Play!
The next step is to beat your own score. 
You can challenge your friends in the same way and compete against them on speed. 
Enjoy!
THREE PRACTICE MODES
You can practice individually, but you can also simultaneously battle with a friend to see who can control the puck the best. Here are the three practice modes in detail:
Puck Control Mode
In this mode, players can use their own speed and timing to maneuver a puck through a set of rotating lights. The rotating lights create unpredictable patterns that simulate the feeling of real-time hockey action. With practice, they'll be able to improve puck control with a simple flick of a wrist.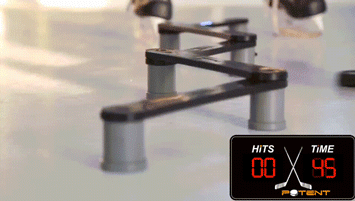 Battle Mode
In this mode, players will face off against their opponents with the same goal: to score more points than them. The game will last for as long as you want, but the one with the highest score at the end wins. This mode is great for practicing your speed, timing, and reaction skills so that you can turn them into in-game success.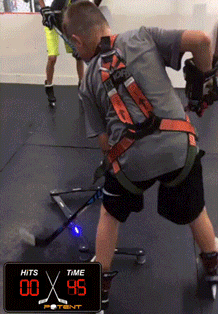 Team Mode
Team Mode allows you to create a battle with a person or a team of your choice to see who can win the most points by passing through rotating lights. It is an excellent way to improve teamwork and communication while working on your stickhandling and passing skills.
Why Should I Get It?
The Potent hockey stickhandling trainer is a great training tool for any level of hockey player. You don't have to be a pro to start practicing puck control or improving your skills. 
It can help athletes of all ages and skill levels improve their speed, timing, and coordination, while also challenging the mind at the same time. That is why 100+ NHL players use it, plus thousands of young hockey players, and their coaches love it too! 
As you can see, the Potent stickhandling trainer is a great tool for any level of hockey player. The Potent stickhandling trainer is also great for getting some quick feedback and keeping your game sharp in the offseason. Practice anywhere, anytime.
So, if you're a hockey player, the answer is simple: Get your own Potent Hockey Stickhandling Trainer today!
INSTRUCTIONS
Five targets are randomly lit and scored upon when you pass the puck under the target (LED light). 
TIME & HITS
TIME: 45s
HITS: when the puck passes under the LED light, you will get a score.
CONTROLLER INSTRUCTION
ON/OFF——power

CHARGING LED

Charging - display red, Full - display green  
P1: the light changes every 5 seconds
P2: the light changes every 2 seconds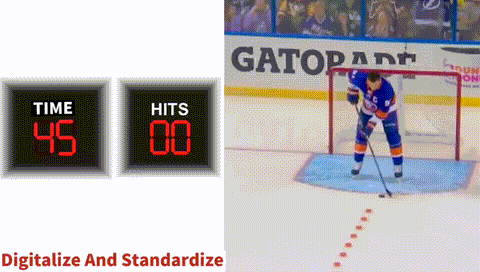 Share
View full details